ST-140S25 is a solid outdoor composite decking, which is stronger than hollow core decking. Solid WPC (Wood Plastic Composite) decking refers to a type of WPC decking that is composed of a solid, homogenous material rather than a hollow profile. Unlike hollow WPC decking, solid WPC decking has a more robust and sturdy structure, which makes it suitable for use in high-traffic areas and for more demanding applications.
One of the main benefits of solid WPC decking is its strength and durability, which makes it ideal for use in high-traffic areas and for projects that require a robust and sturdy decking solution. Additionally, solid WPC decking is resistant to moisture, weather, and insects, which makes it a low-maintenance alternative to traditional wood decking.
Solid WPC decking is also an environmentally-friendly choice, as it is made from recycled materials and does not require the use of trees or other natural resources. The material is also recyclable, which makes it a sustainable choice for those looking to reduce their impact on the environment.
ST-140S25 WPC Decking Product Description
ST-140S25 ECO Composite Decking

Brand Name

SEVEN TRUST

140mm x 25mm

Teak,Redwood,

Light grey,Dark grey,Chocolate,Grey white...

Waterproof, anti corrosive, anti slip, mildew proof

Solid Decking

Pallet

More than 5 years

more than 25 years

Park Deck, Veranda Deck, Swimming pool Decking

Sanding, groove, embossed

MOQ

55% wood fiber, 35% HDPE, 10% additives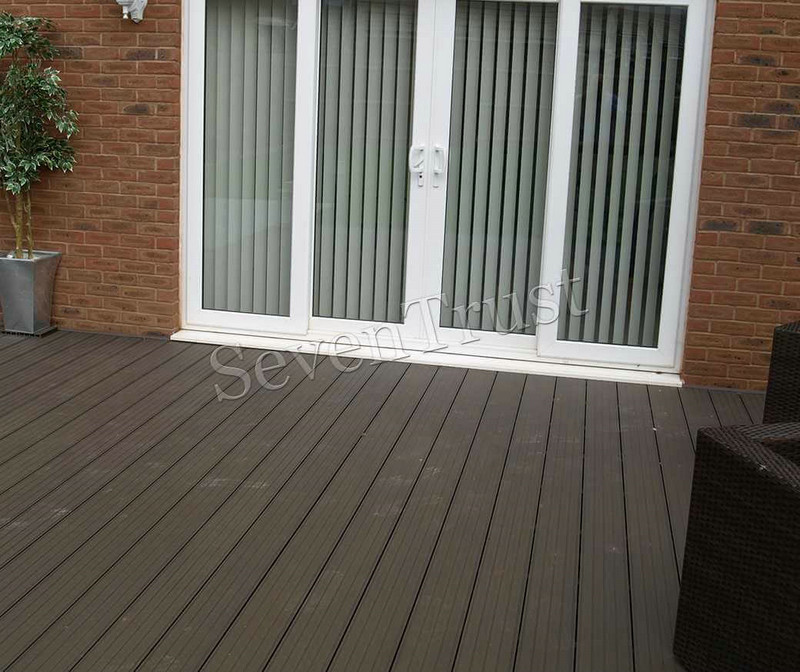 About Seven Trust Composite Decking
Seven Trust composite decking products are made from a combination of wood fibers and plastic, and they are designed to offer the look and feel of natural wood decking with the added benefits of durability, low-maintenance requirements, and resistance to moisture, weather, and insects.
Our composite decking products are available in a range of colors and finishes, and they can be used for a variety of applications, including outdoor living spaces such as patios, balconies, and terraces, as well as for commercial projects such as parks and public spaces.
Unlike natural wood decking, Seven Trust composite decking products are resistant to moisture, weather, and insects, which means that they do not require regular maintenance such as sanding, staining, or sealing. Additionally, our composite decking products are easy to clean and maintain, making them a convenient and practical choice for homeowners and builders alike.