WPC fencing (Composite fencing) is made of recycled wood fiber and high-density polyethylene plastic (HDPE). It combines the advantages of wood and plastic and can be used outdoors for a long time without painting or frequent maintenance. Compared with traditional wooden fences, our composite fencing are more durable, allowing you to relax and enjoy more time outdoors.
Installation without special tools is an ideal solution for outdoor fences and current building materials market trends. We provide a complete fencing system, including all accessories, installation guides and maintenance guides, to help you easily create a durable and beautiful outdoor space. Combined with the design of the fencing, we have also developed the fencing door that perfectly matches the fencing system. Its stylish design is suitable for all types of backyards. Compared with traditional wooden fences, our composite fencing can be made in a variety of sizes and colors.
Advantages Of WPC Fence
Environmental protection and formaldehyde free
Anti-corrosion, moisture proof, Anti-UV and Anti-oxidation
Wear resistance and long life
Safe and easy to install
Product Details
| | |
| --- | --- |
| Product description | Composite Privacy Fencing |
| Product components | Composite fencing panels,aluminum posts and covers |
| Panel size | 160X19mm |
| Color | light grey, dark grey, teak,chocolate,redwood etc. |
| Length | 1800mm,1830mm,2000mm etc. |
| Application | Garden,villa,partition etc. |
Our products have been exported to more than 120 countries and have been widely recognized.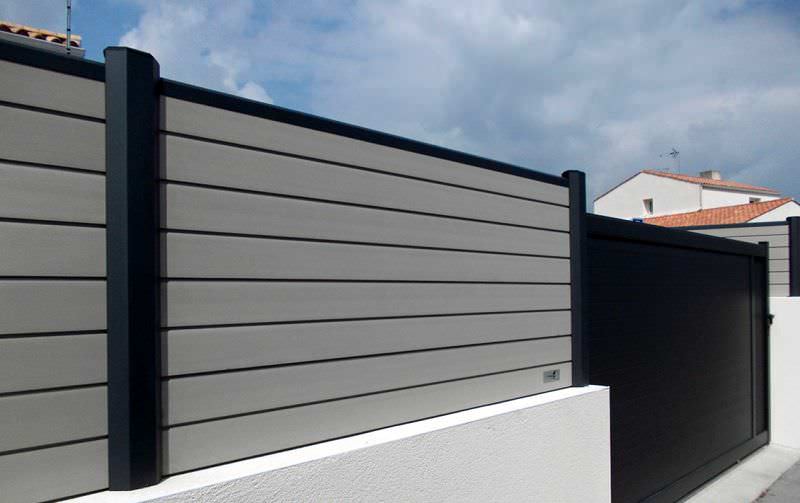 Application of wood-plastic fence panels
Wood-plastic composite (WPC) fence panels have a variety of applications and are often used as an alternative to traditional wooden fence panels. Some of the common applications of WPC fence panels include:
Residential fencing: WPC fence panels are often used for residential fencing due to their durability, low maintenance, and aesthetic appeal. They can be used to enclose a backyard, provide privacy, or enhance the appearance of a property.
Commercial fencing: WPC fence panels can also be used for commercial fencing applications, such as perimeter fencing for parks, schools, and public spaces. They are often used because of their long lifespan and low maintenance requirements, which can help to reduce long-term costs.
Agricultural fencing: WPC fence panels are also used in agriculture to enclose livestock and protect crops. They are resistant to weather and UV rays, which makes them a durable and long-lasting option for outdoor fencing.
Pool fencing: WPC fence panels are a popular choice for pool fencing due to their water resistance and ability to withstand harsh weather conditions. They can provide a safe and attractive barrier around a pool while also enhancing the overall aesthetic of the area.