Several Styles Of Composite Pergola
Composite Pergola roof
Pergola roof  made of dark wood and shade cloth roof. Although small and simple, this wooden pergola design has been stained with dark stains, and a matching shade cloth has been chosen, which can make people feel Asian style and exotic.
Cantilever WPC Pergola
The cantilever WPC pergola is ideal for those who are looking to create some extra shadow somewhere in the garden or above the swimming pool. The structure is reasonable and simple, and it works best in a garden with a modern atmosphere.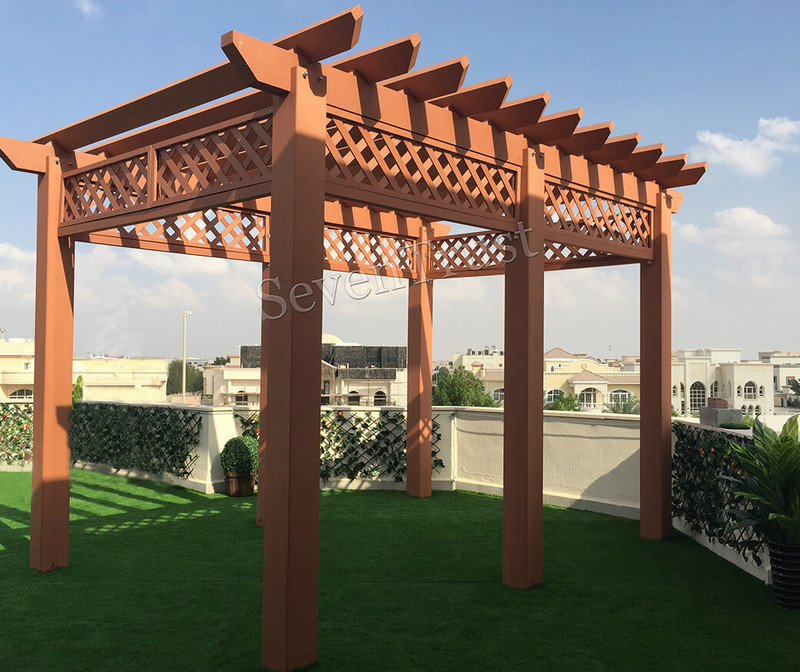 Free-standing pergola
Design of pergola for swimming pool terrace
The special outdoor pergola design made of pergola and wood is very suitable for climbing plants. As it develops, it will provide a beautiful, dense and natural shaded location in your garden. Put it on your deck or beside the swimming pool to give you an extra tropical atmosphere.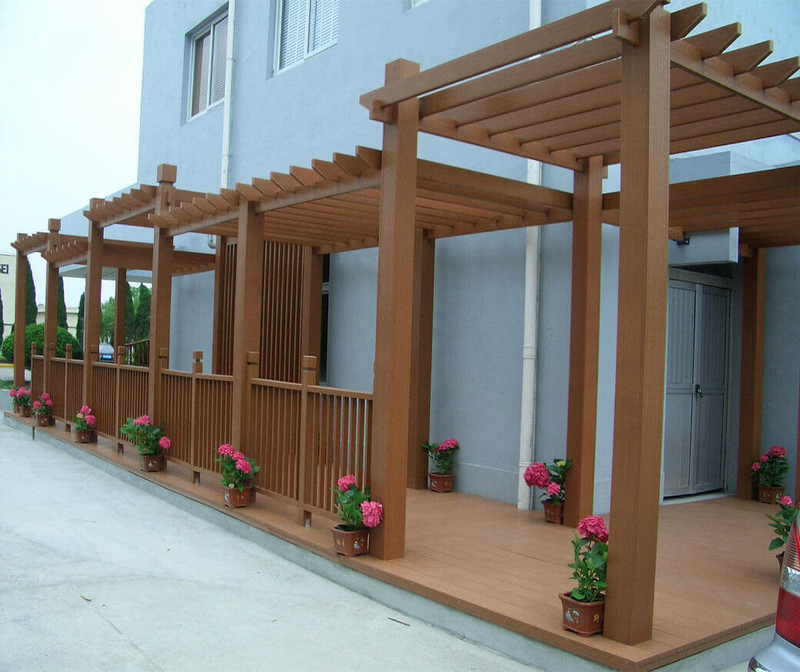 Freestanding pergola by the pool
Whether it is covered with grass or cement, the free-standing pergola can appear in any backyard. A wooden pergola with a sloping roof was built here to provide shade by the pool in the modern and low-maintenance backyard.
House Composite Pergola
Pergola with pitched roof
The design concept of the pergola is connected to the house, with a sloping roof and enclosed lattice, providing residents with extra privacy, shade and an ideal place for entertaining outdoors.
Pergola attached to the house
The idea of this wooden pergola is a simple and effective design that can complement most houses. Attaching to the main house is great for entertainment and provides some extra shelter when the weather gets cold.
Thatched pergola
The thatched pergola is an ideal way to infuse the jungle atmosphere into your garden or make you feel like you are spending a permanent vacation on a tropical beach. Its structure is the same as any traditional pergola, and the roof can be inclined or flat. Only natural plant products are used to cover the roof, instead of wood, color paste or plexiglass.
Design of traditional pergola and steel pergola
Traditional pergola
Traditional pergola lights and climbing plants. This traditional pergola design is made of wood and is located in a small backyard, displaying romantic and beautiful climbing plants. Just add fairy lights and lanterns in case you need it.
Steel pergola design
Steel pergola, this steel pergola design concept is more suitable for houses with industrial design characteristics. It is characterized by strong lines, sturdiness, and minimalism. Compared with soft gardens, it is more suitable for concrete urban environments.
---
---