WPC decking is now widely used for various applications, including outdoor living spaces such as patios, balconies, and terraces, as well as for commercial projects such as parks and public spaces. There are many people using Wood Plastic Composite (WPC) decking in Europe. WPC decking has gained popularity in Europe in recent years due to its many benefits, including its durability, low-maintenance requirements, and environmental friendliness. The demand for WPC decking in Europe is expected to continue to grow in the coming years, driven by increasing consumer awareness and a growing preference for environmentally-friendly building materials.
ST-140H25-B is a wood-plastic outdoor decking specially developed for European customers. It is very suitable for European weather, low temperature resistance, UV protection, and not easy to mold.
ST-140H25-B WPC Decking Product Description
ST-140H25-B ECO WPC Decking

Brand Name

SEVEN TRUST

140mm x25mm

Teak,Redwood,

Light grey,Dark grey,Chocolate,Grey white...

Waterproof, anti corrosive, anti slip, mildew proof

Hollow WPC Decking

Pallet

More than 5 years

more than 25 years

Park Deck, Veranda Deck, Swimming pool Decking

Sanding, groove, embossed

MOQ

55% wood fiber, 35% HDPE, 10% additives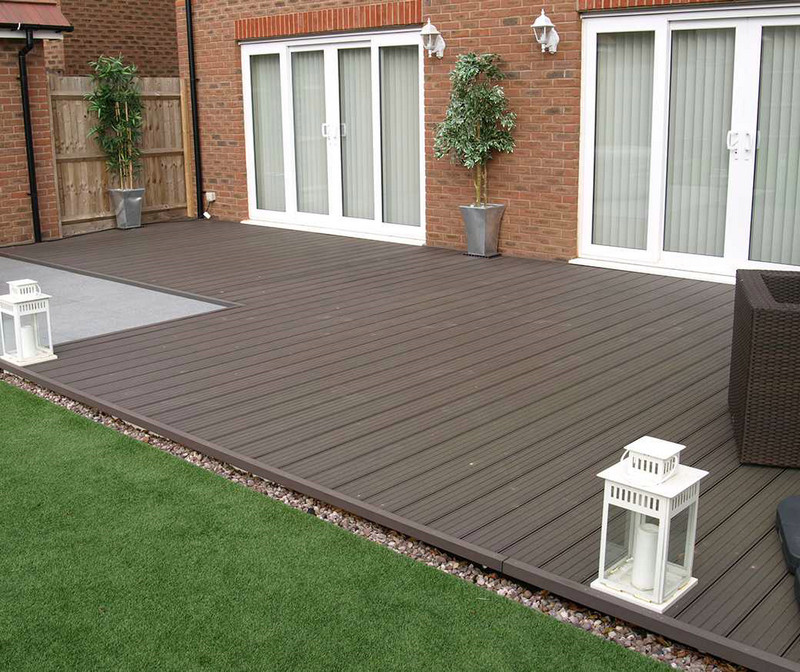 Why Choose Seven Trust WPC Decking
In our factory, specialized machinery and processes are used to produce WPC products of consistent quality and reliability. We typically starts with the selection of high-quality raw materials, including wood fibers and plastic, which are carefully blended to achieve the desired characteristics. The mixture is then subjected to high-temperature and high-pressure processes to form a solid, homogenous material.
Once the WPC material has been produced, it can be further processed and shaped into a variety of products, including decking boards, railing systems, and fencing panels. The final products are then tested to ensure that they meet the high standards of quality and performance that customers expect.